Woman at a Window - Framed Prints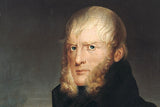 Caspar David Friedrich was a 19th-century German Romantic landscape painter, generally considered the most important German artist of his generation View Artist Collection
---
Available Options In Framed Prints
Small Framed Print
9x12 inches
Framed with Mat
Compact Framed Print
13x18 inches
Framed with Mat
Medium Framed Print
17x24 inches
Framed with Mat
Large Framed Print
21x30 inches
Framed with Mat
Not available for shipping



---
About Woman at a Window
A young woman stands at the window of Friedrich's studio. It is Caroline, the painter's wife. With her back to the viewer, she is looking out across the River Elbe to the other side. The bare interior of the studio is composed of strict horizontals and verticals. It seems lifeless and unlived in. The only signs of life are the figure of the woman, the sight of the delicate green of the poplar trees, and the wide springtime sky. In this work, Friedrich has adopted a favourite theme of Romanticism, where the framework of a window links proximity and distance and evokes a longing for the unknown.
About the Framed Prints
Woman at a Window by Caspar David Friedrich. Bring your print to life with three different frame colors. Each framed print comes with equal sized mat that adds a depth perspective to the entire image and a protective glass covering. Our frame prints are assembled, packaged, and shipped by our expert framing staff and shipped within 3 days in "ready to hang" condition with pre-attached mounting points.
Other options for this artwork