Woman at a Window - Large Art Prints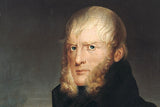 Caspar David Friedrich was a 19th-century German Romantic landscape painter, generally considered the most important German artist of his generation View Artist Collection
Rolled
Wrapped
Framed With Mat
---
Available Options In Large Art Prints
X-Large Large Canvas Print
26x36 inches
Rolled
XX-Large Large Canvas Print
36x51 inches
Rolled



---
About Woman at a Window
A young woman stands at the window of Friedrich's studio. It is Caroline, the painter's wife. With her back to the viewer, she is looking out across the River Elbe to the other side. The bare interior of the studio is composed of strict horizontals and verticals. It seems lifeless and unlived in. The only signs of life are the figure of the woman, the sight of the delicate green of the poplar trees, and the wide springtime sky. In this work, Friedrich has adopted a favourite theme of Romanticism, where the framework of a window links proximity and distance and evokes a longing for the unknown.
About the Large Art Prints
Woman at a Window by Caspar David Friedrich. Bring your artworks and prints to life with our extra large size products. Carefully printed on high quality materials these large size prints come with equal sized mat that adds a depth perspective (frames) or stretched on a white maple wooden frame (gallery wrap). Your product will be shipped within 4 days in "ready to frame" condition for canvas rolls and "ready to hang" condition for frames and wraps with pre-attached hanging wire and/or mounting points.
Other options for this artwork