Set of 3 Mahatma Gandhi Quotes In English With Colored Background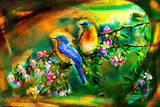 Sina Irani, a free-lance artist.My works are characterized with rich colors and details, bringing viewers strong visual shock.

WlcxdFlTNW5ZWEpqYVdFeE56QTJRR2R0WVdsc0xtTnZiUT09

View Artist Collection
---
Available Options In Poster Sets



---
About Set of 3 Mahatma Gandhi Quotes In English With Colored Background
Gandhi's message of truth, love and nonviolence is still relevant today, rather even more relevant than ever before. The ethics of nonviolence, as practiced and cultivated by Mahatma Gandhi, live on, regardless of national or political boundaries. The highest print quality, though provoking sentiments and skillful typography come together in this motivating masterpiece which makes it a must any office and home. 
Tallenge Store brings you his inspirational quotes along with beautiful art as a set of 3 framed photo prints. 
Printed using a large format production printer with environmentally safe inks, each of the framed print measures 15 inches X 15 inches. This is a set of 3 frames having three different quotes of Mahatma Gandhi and is absolutely ready to be hung on the walls.
About the Poster Sets
Set of 3 Mahatma Gandhi Quotes In English With Colored Background by Sina Irani. Translation missing: en.product_types_description.poster-sets
Other options for this artwork