White Pierrot - Large Art Prints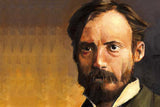 Pierre-Auguste Renoir (1841 – 1919), a French artist, was a leading painter in the development of the Impressionist style.

He enjoyed depicting his friends and lovers with expressive candor, conveying a youthful exuberance and intimate charm

And such as a celebrator of beauty, especially feminine sensuality, it has been said that "Renoir is the final representative of a tradition which runs directly from Rubens to Watteau". View Artist Collection
Rolled
Wrapped
Framed With Mat
---
Available Options In Large Art Prints
X-Large Large Canvas Print
28x36 inches
Rolled



---
About White Pierrot
White Pierrot, is a painting executed by Pierre Auguste in 1901-02. Pierrot is a stock character of pantomime and Commedia dell'Arte whose origins are in the late seventeenth-century Italian troupe of players performing in Paris.
About the Large Art Prints
White Pierrot by Pierre-Auguste Renoir. Bring your artworks and prints to life with our extra large size products. Carefully printed on high quality materials these large size prints come with equal sized mat that adds a depth perspective (frames) or stretched on a white maple wooden frame (gallery wrap). Your product will be shipped within 4 days in "ready to frame" condition for canvas rolls and "ready to hang" condition for frames and wraps with pre-attached hanging wire and/or mounting points.
Other options for this artwork