Untitled - Woman With A Guitar - Large Art Prints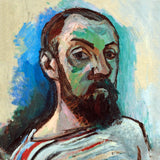 Widely regarded as the greatest colourist and along with Picasso, as one of the artists who best helped to define and influence radical contemporary art in the 20th century, Henri-Emile-Benoit Matisse (1869-1954) was known for both his excellent use of colour and form of his Fauvist style.  
Matisse's art continues to beguile not only artists, but also collectors and as several recent and upcoming blockbuster exhibitions suggest, he continues to be a favourite of the public worldwide.
View Artist Collection
Rolled
Wrapped
Framed With Mat
---
Available Options In Large Art Prints
X-Large Large Canvas Print
27x36 inches
Rolled
XX-Large Large Canvas Print
36x48 inches
Rolled



---
About Untitled Woman With A Guitar
" Untitled (Woman With A Guitar) " by Henri Matisse is a famous painting depicting a woman with a guitar and showcasing his love for music. His art was important in endorsing the value of decoration in modern art. However, although he is popularly regarded as a painter devoted to pleasure and contentment, his use of colour and pattern is often deliberately disorientating and unsettling.
About the Large Art Prints
Untitled - Woman With A Guitar by Henri Matisse. Bring your artworks and prints to life with our extra large size products. Carefully printed on high quality materials these large size prints come with equal sized mat that adds a depth perspective (frames) or stretched on a white maple wooden frame (gallery wrap). Your product will be shipped within 4 days in "ready to frame" condition for canvas rolls and "ready to hang" condition for frames and wraps with pre-attached hanging wire and/or mounting points.
Other options for this artwork