Untitled (Orange And Yellow) - Large Art Prints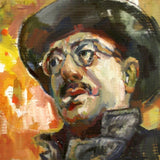 A prominent figure among the New York School painters, Mark Rothko moved through many artistic styles until reaching his signature 1950s motif of soft, rectangular forms floating on a stained field of color.
Although Rothko himself refused to adhere to any art movement, he is generally identified as an abstract expressionist. Heavily influenced by mythology and philosophy, he was insistent that his art was filled with content and brimming with ideas.
View Artist Collection
Rolled
Wrapped
Framed With Mat
---
Available Options In Large Art Prints
X-Large Large Canvas Print
28x36 inches
Rolled



---
About Untitled (Orange And Yellow)
"Untitled (Orange And Yellow)" is a rich and exuberant painting by Mark Rothko belonging to the first years of Rothko's maturity - a period in which warm, joyous and sunny colors predominate in his work before slowly giving way to the more somber preponderance with red, blue and maroon that distinguished his later work. The principles of frontality and iconic imagery in his mature works are common to traditional altarpieces, and both formats have similar dimensions and proportions.
About the Large Art Prints
Untitled (Orange And Yellow) by Mark Rothko. Bring your artworks and prints to life with our extra large size products. Carefully printed on high quality materials these large size prints come with equal sized mat that adds a depth perspective (frames) or stretched on a white maple wooden frame (gallery wrap). Your product will be shipped within 4 days in "ready to frame" condition for canvas rolls and "ready to hang" condition for frames and wraps with pre-attached hanging wire and/or mounting points.
Other options for this artwork