Untitled (1970) - Large Art Prints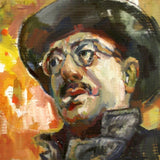 A prominent figure among the New York School painters, Mark Rothko moved through many artistic styles until reaching his signature 1950s motif of soft, rectangular forms floating on a stained field of color.
Although Rothko himself refused to adhere to any art movement, he is generally identified as an abstract expressionist. Heavily influenced by mythology and philosophy, he was insistent that his art was filled with content and brimming with ideas.
View Artist Collection
Rolled
Wrapped
Framed With Mat
---
Available Options In Large Art Prints
X-Large Large Canvas Print
34x36 inches
Rolled



---
About Untitled (1970)
"Untitled (1970)" is one of the most popular and also the last painting of Mark Rothko. While vibrant, Untitled 1970 has been seen as a harbinger of Rothko's suicide of the same year, as its bold color is also evocative of blood. Rothko used large, rectangular swaths of color to express universal emotions, and his transfixing Color Field paintings are almost talismanic in the way they provoke empathy and awe. Its bright-red hues, however, are notable in comparison with the more sober browns, blacks, and rusts that feature in many of Rothko's preceding works.
About the Large Art Prints
Untitled (1970) by Mark Rothko. Bring your artworks and prints to life with our extra large size products. Carefully printed on high quality materials these large size prints come with equal sized mat that adds a depth perspective (frames) or stretched on a white maple wooden frame (gallery wrap). Your product will be shipped within 4 days in "ready to frame" condition for canvas rolls and "ready to hang" condition for frames and wraps with pre-attached hanging wire and/or mounting points.
Other options for this artwork