The Sacrament of The Last Supper - Posters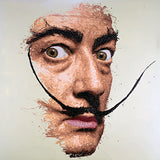 The Spanish painter Salvador Dali remains one of the most controversial and paradoxical artists of the twentieth century. Over last few decades, Salvador Dali has gradually come to be seen, alongside the likes of Picasso and Matisse, as a prodigious figure whose life and work occupies a central and unique position in the history of modern art.
Dali has also come to be regarded not only as its most well-known exponent but also, to many people, as an individual artist synonymous with Surrealism itself. In addition, Dali was a great artist who was a great self-publicist and showman. The combination was an irresistible formula for success.
View Artist Collection
---
Available Options In Posters
Small Size 17x12 inches Poster
Small Size 17x12 inches
Rolled
Not available for shipping



---
About The Sacrament of The Last Supper
The Sacrament of the Last Supper depicts thirteen figures gathered around a table. Assuming this painting is in line with traditional symbolism the figures are Christ and his 12 Apostles. Christ is the center figure in the painting placed directly on the horizon line. Directly behind him on the intersection point of perspective rests the source of sunlight making the Christ figure the focus of the painting. He points upward directing the viewer's attention to a dominating transparent torso with arms stretched outward spanning the width of the picture plane.
About the Posters
The Sacrament of The Last Supper by Salvador Dali. Our posters are produced on acid-free 220 GSM papers using archival inks to guarantee that they last a lifetime without fading or loss of color. All posters include a sufficent white border around the image to allow for future framing, if desired. Product will be shipped in 2-3 days
Other options for this artwork