The Royal End - Framed Prints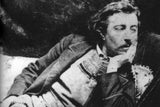 Paul Gauguin (1848 - 1903) was a French Post-Impressionist artist who was not well appreciated until after his death.

Gauguin is now recognized for his experimental use of color and synthetist style that were distinctly different from Impressionism.

He was an important figure in the Symbolist moment. His bold experimentation with color led directly to the Sythetist style of modern art. View Artist Collection
---
Available Options In Framed Prints
Small Framed Print
12x7 inches
Framed with Mat
Compact Framed Print
18x11 inches
Framed with Mat
Medium Framed Print
24x15 inches
Framed with Mat
Large Framed Print
30x18 inches
Framed with Mat
Not available for shipping



---
About The Royal End
I have just finished a severed kanak [Pacific Islander] head, nicely arranged on a white cushion, in a palace of my invention and guarded by women also of my invention. --Paul Gauguin Writing to his friend Daniel de Monfreid, Paul Gauguin referenced in an almost offhand way this startling painting of a decapitated human head, which he made during his first stay in Polynesia in the early 1890s. Real events, from Tahitian King Pomare V's death soon after Gauguin's arrival, to the artist having witnessed a public execution by guillotine several years earlier, likely influenced its dark subject matter.
About the Framed Prints
The Royal End by Paul Gauguin. Bring your print to life with three different frame colors. Each framed print comes with equal sized mat that adds a depth perspective to the entire image and a protective glass covering. Our frame prints are assembled, packaged, and shipped by our expert framing staff and shipped within 3 days in "ready to hang" condition with pre-attached mounting points.
Other options for this artwork