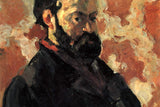 Paul Cézanne (1839 - 1906) was a French artist and Post-Impressionist whose work laid the foundations of the transition from 19th-century conception of artistic endeavour to a new and radically different world of art in the 20th century.

Cézanne often repetitive, exploratory brushstrokes are highly characteristic and clearly recognizable. He used planes of color and small brushstrokes that built up to form complex fields. View Artist Collection
---
Available Options In Framed Prints
Small Framed Print
12x10 inches
Framed with Mat
Compact Framed Print
18x15 inches
Framed with Mat
Medium Framed Print
24x20 inches
Framed with Mat
Large Framed Print
30x25 inches
Framed with Mat
Not available for shipping



---
About The Pond
In the early 1870s, Cézanne was living in Auvers, a small town outside Paris, and learning to work directly from nature. The Pond is painted in small, parallel strokes of blues and greens, an early version of the distinctive brushwork that plays a key role in the construction of Cézanne's mature paintings. Here, figures are placed boldly against the landscape. Cézanne would more fully integrate figure and landscape in his many later paintings of bathers.
About the Framed Prints
The Pond by Paul Cézanne. Bring your print to life with three different frame colors. Each framed print comes with equal sized mat that adds a depth perspective to the entire image and a protective glass covering. Our frame prints are assembled, packaged, and shipped by our expert framing staff and shipped within 3 days in "ready to hang" condition with pre-attached mounting points.
Other options for this artwork