The Orange Trees - Large Art Prints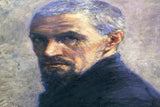 Gustave Caillebotte was a French painter, member and patron of the artists known as Impressionists, although he painted in a much more realistic manner than many other artists in the group. View Artist Collection
Rolled
Wrapped
Framed With Mat
---
Available Options In Large Art Prints
X-Large Large Canvas Print
28x36 inches
Rolled
XX-Large Large Canvas Print
36x47 inches
Rolled
Oversize Large Canvas Print
48x63 inches
Rolled



---
About The Orange Trees
Caillebotte painted this canvas en plein air at the family's country estate in Yerres in 1878. Although impressionist painters were known for painting outdoors, large canvases such as this, painted with this technique, were uncommon due to the difficulties in creating such a large work quickly, before the light changed. Caillebotte obtained one such example, Le Déjeuner by Claude Monet in March of that year, and it is likely to have influenced this work.
About the Large Art Prints
The Orange Trees by Gustave Caillebotte. Bring your artworks and prints to life with our extra large size products. Carefully printed on high quality materials these large size prints come with equal sized mat that adds a depth perspective (frames) or stretched on a white maple wooden frame (gallery wrap). Your product will be shipped within 4 days in "ready to frame" condition for canvas rolls and "ready to hang" condition for frames and wraps with pre-attached hanging wire and/or mounting points.
Other options for this artwork