The Model Resting - Large Art Prints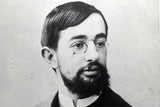 Henri de Toulouse-Lautrec (1864-1901) was a French painter whose immersion in the colourful and theatrical life of Paris in the late 19th century allowed him to produce a collection of enticing, elegant and provocative images of the modern, sometimes decadent, life of those times.

Toulouse-Lautrec is among the best-known painters of the Post-Impressionist period. View Artist Collection
Rolled
Wrapped
Framed With Mat
---
Available Options In Large Art Prints
X-Large Large Canvas Print
27x36 inches
Rolled
XX-Large Large Canvas Print
36x48 inches
Rolled



---
About The Model Resting
Probably painted from life, a semi-clad woman rests with her face hidden and her breast and shoulders exposed. This viewpoint--with the woman observed from above and behind--emphasizes her submissiveness and the spectator's control. The row of small tables and chairs implies a less-than-private setting, perhaps a cafe or brothel.
About the Large Art Prints
The Model Resting by Henri de Toulouse-Lautrec. Bring your artworks and prints to life with our extra large size products. Carefully printed on high quality materials these large size prints come with equal sized mat that adds a depth perspective (frames) or stretched on a white maple wooden frame (gallery wrap). Your product will be shipped within 4 days in "ready to frame" condition for canvas rolls and "ready to hang" condition for frames and wraps with pre-attached hanging wire and/or mounting points.
Other options for this artwork