The Last Supper - multi colour - Large Art Prints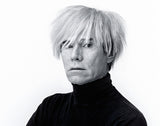 Andy Warhol (1928-1987) was a key figure in Pop Art, an art movement that emerged in America and elsewhere in the 1950s to become prominent over the next two decades.
From haunting black and white self-portraits to Polaroid snapshots of celebrities, many of the photos in the collection later became the inspiration for Warhol's most well-known Pop Art pieces.
View Artist Collection
Rolled
Wrapped
Framed With Mat
---
Available Options In Large Art Prints
X-Large Large Canvas Print
36x24 inches
Rolled



---
About The Last Supper multi colour
"The Last Supper - multi colour" by Andy Warhol's Sixty Last Suppers Collection(1986) is an outstanding example of the artist's great final painting series.   Executed near the end of his life, the monumental piece — the largest painting by the American Pop artist ever to come to auction — takes up the themes of religion and loss that were so key to his work.
About the Large Art Prints
The Last Supper - multi colour by Andy Warhol. Bring your artworks and prints to life with our extra large size products. Carefully printed on high quality materials these large size prints come with equal sized mat that adds a depth perspective (frames) or stretched on a white maple wooden frame (gallery wrap). Your product will be shipped within 4 days in "ready to frame" condition for canvas rolls and "ready to hang" condition for frames and wraps with pre-attached hanging wire and/or mounting points.
Other options for this artwork