The Floor Planers - Framed Prints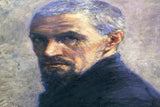 Gustave Caillebotte was a French painter, member and patron of the artists known as Impressionists, although he painted in a much more realistic manner than many other artists in the group. View Artist Collection
---
Available Options In Framed Prints
Small Framed Print
12x9 inches
Framed with Mat
Compact Framed Print
18x13 inches
Framed with Mat
Medium Framed Print
24x17 inches
Framed with Mat
Large Framed Print
30x21 inches
Framed with Mat
Not available for shipping



---
About The Floor Planers
This painting is one of the first representations of urban proletariat. Whereas peasants (Gleaners by Millet) or country workers (Stone Breakers by Courbet) had often been shown, city workers had seldom been painted. Unlike Courbet or Millet, Caillebotte does not incorporate any social, moralising or political message in his work. His thorough documentary study (gestures, tools, accessories) justifies his position among the most accomplished realists.
About the Framed Prints
The Floor Planers by Gustave Caillebotte. Bring your print to life with three different frame colors. Each framed print comes with equal sized mat that adds a depth perspective to the entire image and a protective glass covering. Our frame prints are assembled, packaged, and shipped by our expert framing staff and shipped within 3 days in "ready to hang" condition with pre-attached mounting points.
Other options for this artwork