The Daughters Of Catulle Mendes - Framed Prints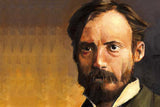 Pierre-Auguste Renoir (1841 – 1919), a French artist, was a leading painter in the development of the Impressionist style.

He enjoyed depicting his friends and lovers with expressive candor, conveying a youthful exuberance and intimate charm

And such as a celebrator of beauty, especially feminine sensuality, it has been said that "Renoir is the final representative of a tradition which runs directly from Rubens to Watteau". View Artist Collection
---
Available Options In Framed Prints
Small Framed Print
10x12 inches
Framed with Mat
Compact Framed Print
15x18 inches
Framed with Mat
Medium Framed Print
20x24 inches
Framed with Mat
Large Framed Print
24x30 inches
Framed with Mat
Not available for shipping



---
About The Daughters Of Catulle Mendes
Hoping to recapture the success he had achieved with Madame Georges Charpentier and Her Children at the Salon of 1879, Renoir asked his friend Catulle Mendès for permission to paint his three daughters. Mendès was a well-known writer and publisher of Symbolist poetry; his companion, Augusta Holmès, a virtuoso pianist and composer, was the mother of these girls.
About the Framed Prints
The Daughters Of Catulle Mendes by Pierre-Auguste Renoir. Bring your print to life with three different frame colors. Each framed print comes with equal sized mat that adds a depth perspective to the entire image and a protective glass covering. Our frame prints are assembled, packaged, and shipped by our expert framing staff and shipped within 3 days in "ready to hang" condition with pre-attached mounting points.
Other options for this artwork