The Dance Hall in Arles - Framed Prints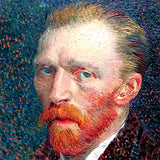 Vincent van Gogh (1853-90) was a Dutch Post-Impressionist painter whose work had a far-reaching influence on 20th-century art. In just over a decade, he produced more than 2,100 artworks but received little recognition during his lifetime.
Van Gogh was unsuccessful during his lifetime and was considered a madman and a failure. He became famous after his suicide, and exists in the public imagination as the quintessential misunderstood and tortured genius artist.
View Artist Collection
---
Available Options In Framed Prints
Small Framed Print
12x10 inches
Framed with Mat
Compact Framed Print
18x15 inches
Framed with Mat
Medium Framed Print
24x19 inches
Framed with Mat
Large Framed Print
30x24 inches
Framed with Mat
Not available for shipping



---
About The Dance Hall in Arles
On 23 October 1888, Paul Gauguin met up again with Vincent Van Gogh in Arles. The two men dreamt of founding a studio of the Midi together, in the South of France. But their enthusiasm rapidly waned. Van Gogh's overbearing presence came up against Gauguin's fierce independence. However, towards mid-December, they started working together again during a temporary improvement in their relationship.
About the Framed Prints
The Dance Hall in Arles by Vincent Van Gogh. Bring your print to life with three different frame colors. Each framed print comes with equal sized mat that adds a depth perspective to the entire image and a protective glass covering. Our frame prints are assembled, packaged, and shipped by our expert framing staff and shipped within 3 days in "ready to hang" condition with pre-attached mounting points.
Other options for this artwork