Tea Trees Near Cape Schanck, Victoria - Large Art Prints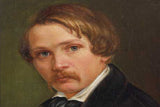 Johann Joseph Eugen von Guérard was an Austrian-born artist, active in Australia from 1852 until 1882. In Australia, this artist is usually referred to as Eugene von Guerard. View Artist Collection
Rolled
Wrapped
Framed With Mat
---
Available Options In Large Art Prints
X-Large Large Framed Print
36x24 inches
Framed With Mat
Not available for shipping
XX-Large Large Framed Print
55x36 inches
Framed With Mat
Not available for shipping
Oversize Large Framed Print
73x48 inches
Framed With Mat
Not available for shipping



---
About Tea Trees Near Cape Schanck, Victoria
In the 1860s and early 1870s, von Guérard painted a series of views on the Mornington Peninsula, south-west of Melbourne. In April 1863, he visited Cape Schanck, a dramatic outcrop of volcanic rock protruding into the Bass Strait. He made a series of sketches at that time which he later used to produce this work and also Castle Rock, Cape Schanck, both dated 1865; he had previously sketched there with his friend the Swiss artist Nicholas Chevalier in the late 1850s.This painting is justly renowned as one of von Guérard's best colonial landscapes. It is a fairly rare example of a coastal scene, and, rather than evoking the eerie sublimity of endless mountains in the still largely unexplored region of the Australian Alps or the volcanic curiosities of the Western District, it reverts to a picturesque formula that has more in common with his earlier Italian works of the 1830s and 1840s, representing Capri, or scenes of the peninsula from Sorrento to Amalfi.
About the Large Art Prints
Tea Trees Near Cape Schanck, Victoria by Eugène von Guérard. Bring your artworks and prints to life with our extra large size products. Carefully printed on high quality materials these large size prints come with equal sized mat that adds a depth perspective (frames) or stretched on a white maple wooden frame (gallery wrap). Your product will be shipped within 4 days in "ready to frame" condition for canvas rolls and "ready to hang" condition for frames and wraps with pre-attached hanging wire and/or mounting points.
Other options for this artwork