Street Singer - Large Art Prints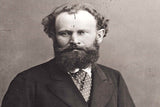 Édouard Manet (1832 - 1883) was a French painter who depicted everyday scenes of people and city life. He was a leading artist in the transition from Realism to Impressionism.

Kown as one of the most controversial artists in his time, Édouard Manet has risen above his detractors to prove his genuine talent that is worthy of emulation. View Artist Collection
Rolled
Wrapped
Framed With Mat
---
Available Options In Large Art Prints
X-Large Large Canvas Print
22x36 inches
Rolled
XX-Large Large Canvas Print
36x59 inches
Rolled



---
About Street Singer
Manet was inspired by the sight of a woman with a guitar emerging from a sleazy café. She refused to pose for the picture, so Manet employed his favorite model of the 1860s, Victorine Meurent. The style and subject matter seemed crude to academic critics when the painting was exhibited in 1863. But Manet's friend, the novelist and critic Emile Zola, admired its formal beauties and its apparent confrontation with real life.
About the Large Art Prints
Street Singer by Édouard Manet. Bring your artworks and prints to life with our extra large size products. Carefully printed on high quality materials these large size prints come with equal sized mat that adds a depth perspective (frames) or stretched on a white maple wooden frame (gallery wrap). Your product will be shipped within 4 days in "ready to frame" condition for canvas rolls and "ready to hang" condition for frames and wraps with pre-attached hanging wire and/or mounting points.
Other options for this artwork