Skull, 1976 - Framed Prints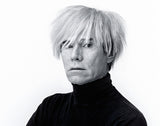 Andy Warhol (1928-1987) was a key figure in Pop Art, an art movement that emerged in America and elsewhere in the 1950s to become prominent over the next two decades.
From haunting black and white self-portraits to Polaroid snapshots of celebrities, many of the photos in the collection later became the inspiration for Warhol's most well-known Pop Art pieces.
View Artist Collection
---
Available Options In Framed Prints
Small Framed Print
12x11 inches
Framed with Mat
Compact Framed Print
18x16 inches
Framed with Mat
Medium Framed Print
24x22 inches
Framed with Mat
Large Framed Print
30x27 inches
Framed with Mat
Not available for shipping



---
About Skull, 1976
"Skull, 1976" by Andy Warhol is a painting after he was shot and critically injured in 1968, Warhol became even more obsessed with the theme of death than he had been previously.   Following this, it was ten years before he returned to self-portraiture and when he did, the skull, a traditional symbol of mortality, featured heavily. The inclusion of a skull suggests he was working within the 'memento mori' tradition, which aims to remind us that we shall all die.
About the Framed Prints
Skull, 1976 by Andy Warhol. Bring your print to life with three different frame colors. Each framed print comes with equal sized mat that adds a depth perspective to the entire image and a protective glass covering. Our frame prints are assembled, packaged, and shipped by our expert framing staff and shipped within 3 days in "ready to hang" condition with pre-attached mounting points.
Other options for this artwork