Ship With Butterfly Sails - Framed Prints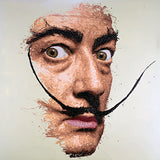 The Spanish painter Salvador Dali remains one of the most controversial and paradoxical artists of the twentieth century. Over last few decades, Salvador Dali has gradually come to be seen, alongside the likes of Picasso and Matisse, as a prodigious figure whose life and work occupies a central and unique position in the history of modern art.
Dali has also come to be regarded not only as its most well-known exponent but also, to many people, as an individual artist synonymous with Surrealism itself. In addition, Dali was a great artist who was a great self-publicist and showman. The combination was an irresistible formula for success.
View Artist Collection
---
Available Options In Framed Prints
Small Framed Print
12x10 inches
Framed with Mat
Compact Framed Print
18x15 inches
Framed with Mat
Medium Framed Print
24x18 inches
Framed with Mat



---
About Ship With Butterfly Sails
The colours that highlight the most are: green, blue and orange. We believe that the colours of the ship represent hope, because of how it contrasts with the background. We find blue as a way of peace and green (from the ocean) as way steadiness within the ship. And at last you can see the shore, which is in contrast with everything around.
About the Framed Prints
Ship With Butterfly Sails by Salvador Dali. Bring your print to life with three different frame colors. Each framed print comes with equal sized mat that adds a depth perspective to the entire image and a protective glass covering. Our frame prints are assembled, packaged, and shipped by our expert framing staff and shipped within 3 days in "ready to hang" condition with pre-attached mounting points.
Other options for this artwork