Sacrifice Of Isaac - Framed Prints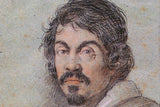 Caravaggio was an Italian painter active in Rome, Naples, Malta, and Sicily between 1592 and 1610. His paintings, which combine a realistic observation of the human state, both physical and emotional, with a dramatic use of lighting, had a formative influence on Baroque painting. View Artist Collection
---
Available Options In Framed Prints
Small Framed Print
12x8 inches
Framed with Mat
Compact Framed Print
18x13 inches
Framed with Mat
Medium Framed Print
24x17 inches
Framed with Mat
Large Framed Print
30x21 inches
Framed with Mat
Not available for shipping



---
About Sacrifice Of Isaac
The Sacrifice of Isaac is the title of two paintings from c. 1598 - 1603 depicting the sacrifice of Isaac. The paintings could be painted by the Italian master Caravaggio (1571 – 1610) but there is also strong evidence that they may have been the work of Bartolomeo Cavarozzi, a talented early member of the Caravaggio following who is known to have been in Spain about 1617-1619.
About the Framed Prints
Sacrifice Of Isaac by Caravaggio. Bring your print to life with three different frame colors. Each framed print comes with equal sized mat that adds a depth perspective to the entire image and a protective glass covering. Our frame prints are assembled, packaged, and shipped by our expert framing staff and shipped within 3 days in "ready to hang" condition with pre-attached mounting points.
Other options for this artwork