Ruby-throated Humming Bird - Framed Prints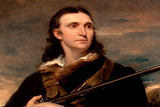 John James Audubon, born Jean-Jacques Audubon, was an American ornithologist, naturalist, and painter. View Artist Collection
---
Available Options In Framed Prints
Small Framed Print
9x12 inches
Framed with Mat
Compact Framed Print
14x18 inches
Framed with Mat
Medium Framed Print
18x24 inches
Framed with Mat
Large Framed Print
23x30 inches
Framed with Mat
Not available for shipping



---
About Rubythroated Humming Bird
"Ruby-throated Humming Bird" is a well-known illustration by John James Audubon, depicting the ruby-throated Humming birds flying around bignonia flowers. Bignonia, commonly known as 'Cross vine' or 'Trumpet flower' is a beautiful bright colored flower. Botanical illustration is the art of depicting the form, color, and details of plant species, frequently in watercolor paintings. Often composed in consultation with a scientific author, their creation requires an understanding of plant morphology and access to specimens and references.
About the Framed Prints
Ruby-throated Humming Bird by John James Audubon. Bring your print to life with three different frame colors. Each framed print comes with equal sized mat that adds a depth perspective to the entire image and a protective glass covering. Our frame prints are assembled, packaged, and shipped by our expert framing staff and shipped within 3 days in "ready to hang" condition with pre-attached mounting points.
Other options for this artwork