River Landscape - Large Art Prints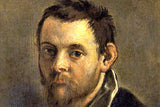 Annibale Carracci was an Italian Baroque painter. Annibale Carracci was surrounded by artists in his family life; going on to collaborate with them as well. With his cousin, Ludovico Carracci (1555 – 1619) and brother, Agostino (1557 – 1602), Annibale helped forge an influential style for the Bolognese School of painting. View Artist Collection
Rolled
Wrapped
Framed With Mat
---
Available Options In Large Art Prints
X-Large Large Canvas Print
36x21 inches
Rolled
XX-Large Large Canvas Print
61x36 inches
Rolled
Oversize Large Canvas Print
82x48 inches
Rolled



---
About River Landscape
It might be said that with paintings like this one, Annibale Carracci invented the landscape as a subject for Italian baroque painting. Nature here is appreciated first and foremost for herself and not as the backdrop for a story.
About the Large Art Prints
River Landscape by Annibale Carracci. Bring your artworks and prints to life with our extra large size products. Carefully printed on high quality materials these large size prints come with equal sized mat that adds a depth perspective (frames) or stretched on a white maple wooden frame (gallery wrap). Your product will be shipped within 4 days in "ready to frame" condition for canvas rolls and "ready to hang" condition for frames and wraps with pre-attached hanging wire and/or mounting points.
Other options for this artwork