Panneaux pour la baraque de la Goulue, à la Foire du Trône à Paris - Large Art Prints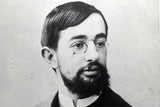 Henri de Toulouse-Lautrec (1864-1901) was a French painter whose immersion in the colourful and theatrical life of Paris in the late 19th century allowed him to produce a collection of enticing, elegant and provocative images of the modern, sometimes decadent, life of those times.

Toulouse-Lautrec is among the best-known painters of the Post-Impressionist period. View Artist Collection
Rolled
Wrapped
Framed With Mat
---
Available Options In Large Art Prints
X-Large Large Canvas Print
36x34 inches
Rolled
Oversize Large Canvas Print
51x48 inches
Rolled



---
About Panneaux pour la baraque de la Goulue, à la Foire du Trône à Paris
Two panels that decorated the booth of La Goulue , a former dancer from the Moulin Rouge and friend of Toulouse -Lautrec at the fair were cut from the throne in 1926. Purchased by the state in 1929, the different fragments have been recomposed.
About the Large Art Prints
Panneaux pour la baraque de la Goulue, à la Foire du Trône à Paris by Henri de Toulouse-Lautrec. Bring your artworks and prints to life with our extra large size products. Carefully printed on high quality materials these large size prints come with equal sized mat that adds a depth perspective (frames) or stretched on a white maple wooden frame (gallery wrap). Your product will be shipped within 4 days in "ready to frame" condition for canvas rolls and "ready to hang" condition for frames and wraps with pre-attached hanging wire and/or mounting points.
Other options for this artwork