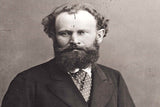 Édouard Manet (1832 - 1883) was a French painter who depicted everyday scenes of people and city life. He was a leading artist in the transition from Realism to Impressionism.

Kown as one of the most controversial artists in his time, Édouard Manet has risen above his detractors to prove his genuine talent that is worthy of emulation. View Artist Collection
---
Available Options In Framed Prints
Small Framed Print
12x8 inches
Framed with Mat
Compact Framed Print
18x12 inches
Framed with Mat
Medium Framed Print
24x16 inches
Framed with Mat
Large Framed Print
30x20 inches
Framed with Mat
Not available for shipping



---
About Olympia
With Olympia, Manet reworked the traditional theme of the female nude, using a strong, uncompromising technique. Both the subject matter and its depiction explain the scandal caused by this painting at the 1865 Salon. Even though Manet quoted numerous formal and iconographic references, such as Titian's Venus of Urbino, Goya's Maja desnuda, and the theme of the odalisque with her black slave, already handled by Ingres among others, the picture portrays the cold and prosaic reality of a truly contemporary subject.
About the Framed Prints
Olympia by Édouard Manet. Bring your print to life with three different frame colors. Each framed print comes with equal sized mat that adds a depth perspective to the entire image and a protective glass covering. Our frame prints are assembled, packaged, and shipped by our expert framing staff and shipped within 3 days in "ready to hang" condition with pre-attached mounting points.
Other options for this artwork