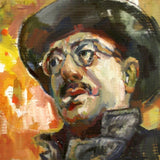 A prominent figure among the New York School painters, Mark Rothko moved through many artistic styles until reaching his signature 1950s motif of soft, rectangular forms floating on a stained field of color.
Although Rothko himself refused to adhere to any art movement, he is generally identified as an abstract expressionist. Heavily influenced by mythology and philosophy, he was insistent that his art was filled with content and brimming with ideas.
View Artist Collection
---
Available Options In Framed Prints
Small Framed Print
10x12 inches
Framed with Mat
Compact Framed Print
15x18 inches
Framed with Mat
Medium Framed Print
19x24 inches
Framed with Mat
Large Framed Print
24x30 inches
Framed with Mat
Not available for shipping



---
About No. 17
"No. 17" is a famous painting by Mark Rothko where the very sheerness of the fields in the painting, stretched out before the gaze like hallucinatory integuments, reinforces this corporeal undertow. The same applies to the meticulously brushed-out peripheries of its red and the slight horizontal striations amid the pink, as well as the way that the orange-gold extends around all sides of the stretcher. These are alike the intimate signs of a hypnotic presence that equivocates between materiality and evanescence, stillness and change.
About the Framed Prints
No. 17 by Mark Rothko. Bring your print to life with three different frame colors. Each framed print comes with equal sized mat that adds a depth perspective to the entire image and a protective glass covering. Our frame prints are assembled, packaged, and shipped by our expert framing staff and shipped within 3 days in "ready to hang" condition with pre-attached mounting points.
Other options for this artwork