No. 1 (1949) - Framed Prints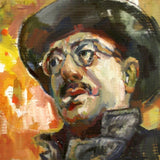 A prominent figure among the New York School painters, Mark Rothko moved through many artistic styles until reaching his signature 1950s motif of soft, rectangular forms floating on a stained field of color.
Although Rothko himself refused to adhere to any art movement, he is generally identified as an abstract expressionist. Heavily influenced by mythology and philosophy, he was insistent that his art was filled with content and brimming with ideas.
View Artist Collection
---
Available Options In Framed Prints
Small Framed Print
6x12 inches
Framed with Mat
Compact Framed Print
9x18 inches
Framed with Mat
Medium Framed Print
12x24 inches
Framed with Mat
Large Framed Print
15x30 inches
Framed with Mat
Not available for shipping



---
About No. 1 (1949)
"No. 1 (1949)" by Mark Rothko is one of the artist's earliest examples of his mature artistic vocabulary, dating from the pioneering year of his practice. The importance of "No. 1" to Rothko's practice is underlined by the fact that he guarded the work and kept it in his possession until his untimely death. A glowing vision of rich orange and lemon-bright yellow, punctuated at its core by a dramatic zone of ochre strokes upon a bar of vaporous blue and teal, No.1 paved the way for the transformative painting as mood for which he is critically acclaimed.
About the Framed Prints
No. 1 (1949) by Mark Rothko. Bring your print to life with three different frame colors. Each framed print comes with equal sized mat that adds a depth perspective to the entire image and a protective glass covering. Our frame prints are assembled, packaged, and shipped by our expert framing staff and shipped within 3 days in "ready to hang" condition with pre-attached mounting points.
Other options for this artwork