Mountain Peak with Drifting Clouds - Large Art Prints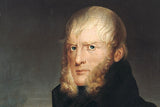 Caspar David Friedrich was a 19th-century German Romantic landscape painter, generally considered the most important German artist of his generation View Artist Collection
Rolled
Wrapped
Framed With Mat
---
Available Options In Large Art Prints
X-Large Large Canvas Print
36x29 inches
Rolled



---
About Mountain Peak with Drifting Clouds
Friedrich is among the greatest of those Romantic artists in whose work spiritual yearning is the dominant theme. A close literary counterpart to his landscapes, in which sharply observed detail is laden with metaphorical or symbolic meaning, is the work of the English nature-poet William Wordsworth. Both epitomized an international trend in the years around 1800 to contemplate the state of nature, as opposed to the "civilized" states of humankind, for revelations about basic and eternal truths.
About the Large Art Prints
Mountain Peak with Drifting Clouds by Caspar David Friedrich. Bring your artworks and prints to life with our extra large size products. Carefully printed on high quality materials these large size prints come with equal sized mat that adds a depth perspective (frames) or stretched on a white maple wooden frame (gallery wrap). Your product will be shipped within 4 days in "ready to frame" condition for canvas rolls and "ready to hang" condition for frames and wraps with pre-attached hanging wire and/or mounting points.
Other options for this artwork