Moonrise over the Sea - Framed Prints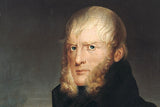 Caspar David Friedrich was a 19th-century German Romantic landscape painter, generally considered the most important German artist of his generation View Artist Collection
---
Available Options In Framed Prints
Small Framed Print
12x9 inches
Framed with Mat
Compact Framed Print
18x14 inches
Framed with Mat
Medium Framed Print
24x19 inches
Framed with Mat
Large Framed Print
30x23 inches
Framed with Mat
Not available for shipping



---
About Moonrise over the Sea
Like its companion piece, the evening picture of the diptych was painted in 1822. In Moonrise on the Seashore Friedrich took up one of his favourite themes. In the reflected light of the night sky, it is as though the surface of the water begins to glow all of its own accord, taking up the light of heaven, as it were. Clouds have come up and the round shape of the full moon is half hidden behind the banks of cloud at the horizon. This means that the moonlight does not fall evenly but seems to be breaking out of a gateway in the clouds, creating a magical play of light.
About the Framed Prints
Moonrise over the Sea by Caspar David Friedrich. Bring your print to life with three different frame colors. Each framed print comes with equal sized mat that adds a depth perspective to the entire image and a protective glass covering. Our frame prints are assembled, packaged, and shipped by our expert framing staff and shipped within 3 days in "ready to hang" condition with pre-attached mounting points.
Other options for this artwork