Merahi metua no Tehamana - Framed Prints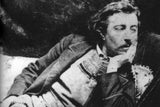 Paul Gauguin (1848 - 1903) was a French Post-Impressionist artist who was not well appreciated until after his death.

Gauguin is now recognized for his experimental use of color and synthetist style that were distinctly different from Impressionism.

He was an important figure in the Symbolist moment. His bold experimentation with color led directly to the Sythetist style of modern art. View Artist Collection
---
Available Options In Framed Prints
Small Framed Print
8x12 inches
Framed with Mat
Compact Framed Print
13x18 inches
Framed with Mat
Medium Framed Print
17x24 inches
Framed with Mat
Large Framed Print
21x30 inches
Framed with Mat
Not available for shipping



---
About Merahi metua no Tehamana
Tehamana was a Tahitian girl who became Paul Gauguin's companion and, in some ways, the embodiment of his feelings about Tahitian culture. Here he showed her wearing the prom dress imposed on native women by European missionaries, a sign that Tahiti was not quite the "primitive" paradise the artist had hoped to find. The Tahitian title Gauguin inscribed on the canvas, "Merahi metua no Tehamana" (Tehamana Has Many Parents), refers to the local custom of sharing children between real and foster parents. He later adopted the French title "Les aïeux de Tehamana" (The Ancestors of Tehamana), which suggests the ancient belief that Tahitians descended from the union of the deities Ta'aroa and Hina. The figure on the wall to the left is Hina, presented in a pose borrowed from Hindu sculpture.
About the Framed Prints
Merahi metua no Tehamana by Paul Gauguin. Bring your print to life with three different frame colors. Each framed print comes with equal sized mat that adds a depth perspective to the entire image and a protective glass covering. Our frame prints are assembled, packaged, and shipped by our expert framing staff and shipped within 3 days in "ready to hang" condition with pre-attached mounting points.
Other options for this artwork