Madonna of the Candelabra - Large Art Prints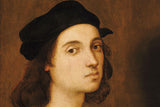 Raffaello Sanzio da Urbino, known as Raphael, was an Italian painter and architect of the High Renaissance. His work is admired for its clarity of form, ease of composition, and visual achievement of the Neoplatonic ideal of human grandeur.

Raphael was enormously productive, running an unusually large workshop and, despite his early death at 37, leaving a large body of work. Many of his works are found in the Vatican Palace, where the frescoed Raphael Rooms were the central, and the largest, work of his career.

The best known work is The School of Athens in the Vatican Stanza della Segnatura. After his early years in Rome, much of his work was executed by his workshop from his drawings, with considerable loss of quality. He was extremely influential in his lifetime, though outside Rome his work was mostly known from his collaborative printmaking. View Artist Collection
Rolled
Wrapped
Framed With Mat
---
Available Options In Large Art Prints
X-Large Large Canvas Print
35x36 inches
Rolled
Oversize Large Canvas Print
48x50 inches
Rolled



---
About Madonna of the Candelabra
Painted in Rome, this tondo (circular painting) of the Virgin and Child employs a rare motif of flanking candelabra that was derived from representations of ancient Roman emperors. Through this reference to the rulers of antiquity, Raphael alludes to Christ's and Mary's roles as the king and queen of Heaven. Raphael was famed for his graceful style which combined the study of classical sculpture and nature The chiaroscuro effects (modelling in light and shade) and gentle colouring give the figures a soft, delicate appearance. The painting relies heavily on the participation of Raphael's workshop, and the two angels certainly were done by his assistants. This was the first Madonna painted by Raphael to enter a North American collection. For more information on this tondo, please see Federico Zeri's 1976 catalogue no. 232, pp. 348-354.
About the Large Art Prints
Madonna of the Candelabra by Raphael. Bring your artworks and prints to life with our extra large size products. Carefully printed on high quality materials these large size prints come with equal sized mat that adds a depth perspective (frames) or stretched on a white maple wooden frame (gallery wrap). Your product will be shipped within 4 days in "ready to frame" condition for canvas rolls and "ready to hang" condition for frames and wraps with pre-attached hanging wire and/or mounting points.
Other options for this artwork