Leda And The Swan - Framed Prints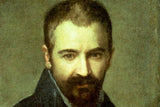 Antonio Allegri da Correggio, usually known as Correggio, was the foremost painter of the Parma school of the Italian Renaissance, who was responsible for some of the most vigorous and sensuous works of the 16th century. View Artist Collection
---
Available Options In Framed Prints
Small Framed Print
12x10 inches
Framed with Mat
Compact Framed Print
18x15 inches
Framed with Mat
Medium Framed Print
24x19 inches
Framed with Mat
Large Framed Print
30x24 inches
Framed with Mat
Not available for shipping



---
About Leda And The Swan
Antonio Allegri da Correggio was the leading painter of the Parma school of the Italian Renaissance. Between 1503 and 1505 he was apprenticed to Francesco Bianchi Ferrara of Modena where he became familiar with the classicism of artists like Lorenzo Costa and Francesco Francia, who deeply influenced his first works. His first major commission was the decoration of the ceiling of the private dining salon of the mother-superior in the Convent of St. Paul in Parma in 1519. The dome of the Cathedral of Parma was also adorned by him. Apart from his religious artworks, he created a very prominent set of mythological paintings based on Ovid's Metamorphoses.
About the Framed Prints
Leda And The Swan by Antonio Allegri da Correggio. Bring your print to life with three different frame colors. Each framed print comes with equal sized mat that adds a depth perspective to the entire image and a protective glass covering. Our frame prints are assembled, packaged, and shipped by our expert framing staff and shipped within 3 days in "ready to hang" condition with pre-attached mounting points.
Other options for this artwork