La Femme En Chemise - Large Art Prints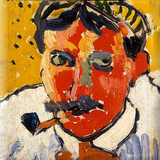 French artist, painter and sculptor Andre Derain (1880-1954) had a major role in the development of two of the most significant artistic movements of the early twentieth century.
André Derain, Henri Matisse, and Maurice de Vlaminck were responsible for generating works with a totally new style which would become Fauvism. 

André's association with Pablo Picasso and Georges Braque was integral to early Cubism.
View Artist Collection
Rolled
Wrapped
Framed With Mat
---
Available Options In Large Art Prints
X-Large Large Canvas Print
28x36 inches
Rolled



---
About La Femme En Chemise
"La Femme En Chemise", a famous portrait of a dancer by Andre Derain, is painted with extremely vibrant, unnatural colors. There is no traditional modulation of light and shadow; instead he uses heavy outlines to suggest volumetric passages. Anatomical elements (such as the figure's facial features, arms, and legs) are elongated and there is an obvious simplification of delineation overall. Her pose, with crossed legs and upper body leaning forward, with that alluring and powerful gaze, is depicted in a way to enhance the figure's power to provoke and seduce.
About the Large Art Prints
La Femme En Chemise by Andre Derain. Bring your artworks and prints to life with our extra large size products. Carefully printed on high quality materials these large size prints come with equal sized mat that adds a depth perspective (frames) or stretched on a white maple wooden frame (gallery wrap). Your product will be shipped within 4 days in "ready to frame" condition for canvas rolls and "ready to hang" condition for frames and wraps with pre-attached hanging wire and/or mounting points.
Other options for this artwork