Irises - Large Art Prints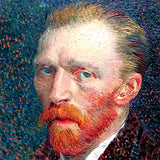 Vincent van Gogh (1853-90) was a Dutch Post-Impressionist painter whose work had a far-reaching influence on 20th-century art. In just over a decade, he produced more than 2,100 artworks but received little recognition during his lifetime.
Van Gogh was unsuccessful during his lifetime and was considered a madman and a failure. He became famous after his suicide, and exists in the public imagination as the quintessential misunderstood and tortured genius artist.
View Artist Collection
Rolled
Wrapped
Framed With Mat
---
Available Options In Large Art Prints
X-Large Large Canvas Print
36x28 inches
Rolled
XX-Large Large Canvas Print
47x36 inches
Rolled
Oversize Large Canvas Print
63x48 inches
Rolled



---
About Irises
Irises was painted while Vincent van Gogh was living at the asylum at Saint Paul-de-Mausole in Saint-Rémy-de-Provence, France, in the last year before his death in 1890.It was painted before his first attack at the asylum. There is a lack of the high tension which is seen in his later works. He called the painting 'the lightning conductor for my illness' because he felt that he could keep himself from going insane by continuing to paint. The painting was influenced by Japanese ukiyo-e woodblock prints like many of his works and those by other artists of the time. The painting was worth $112.3 million.
About the Large Art Prints
Irises by Vincent Van Gogh. Bring your artworks and prints to life with our extra large size products. Carefully printed on high quality materials these large size prints come with equal sized mat that adds a depth perspective (frames) or stretched on a white maple wooden frame (gallery wrap). Your product will be shipped within 4 days in "ready to frame" condition for canvas rolls and "ready to hang" condition for frames and wraps with pre-attached hanging wire and/or mounting points.
Other options for this artwork