Houses at Bougival - Large Art Prints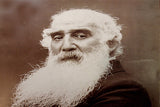 Camille Pissarro was a Danish-French Impressionist and Neo-Impressionist painter born on the island of St Thomas. His importance resides in his contributions to both Impressionism and Post-Impressionism. Pissarro studied from great forerunners, including Gustave Courbet and Jean-Baptiste-Camille Corot. He later studied and worked alongside Georges Seurat and Paul Signac when he took on the Neo-Impressionist style at the age of 54. View Artist Collection
Rolled
Wrapped
Framed With Mat
---
Available Options In Large Art Prints
X-Large Large Canvas Print
36x28 inches
Rolled
XX-Large Large Canvas Print
47x36 inches
Rolled



---
About Houses at Bougival
Within a few hundred yards of his home, Camille Pissarro painted a view of peasants working in a shady, wooded garden alongside a group of village houses. In the foreground, a woman carrying a bucket pauses to talk with a young boy carrying his school satchel over his shoulder. The grey sky and the trees losing their leaves indicate autumn.
About the Large Art Prints
Houses at Bougival by Camille Pissarro. Bring your artworks and prints to life with our extra large size products. Carefully printed on high quality materials these large size prints come with equal sized mat that adds a depth perspective (frames) or stretched on a white maple wooden frame (gallery wrap). Your product will be shipped within 4 days in "ready to frame" condition for canvas rolls and "ready to hang" condition for frames and wraps with pre-attached hanging wire and/or mounting points.
Other options for this artwork