Horses At The Ford - Persia - Framed Prints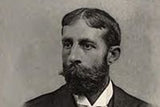 Edwin Lord Weeks is one of the most celebrated of the American Orientalists. Most of his paintings render empathy and belonging than a patronising or condescending portrayal.


Weeks who travelled and painted in Mathura, Benaras, Agra, Delhi, Amritsar and Bombay shows a mastery of artistic detail: most of his paintings bring together an amalgam of society, replete with men, women, animals, structures and dust; the royalty is incidental. A busy marketplace or a solitary mosque.


Original Weeks' paintings today command prices in excess of a million dollars at auctions. View Artist Collection
---
Available Options In Framed Prints
Small Framed Print
12x7 inches
Framed with Mat
Compact Framed Print
18x10 inches
Framed with Mat
Medium Framed Print
24x14 inches
Framed with Mat



---
About Horses At The Ford Persia
"Horses At The Ford - Persia" by Edwin Lord Weeks is a painting depicting horses at the ford. Edwin Lord Weeks was one of the most important American orientalist painters of the late 19th century, and unlike many of his colleagues, his work reflects his travels to the regions he depicted. This large, expansive painting shows the artist's own caravan crossing a stream in the vast Persian desert somewhere between Tabreez and Teheran in the fall of 1892. Although it is based on sketches and possibly photographs executed at the time, the finished work was painted in the artist's studio around 1894-95 after his return to Paris.
About the Framed Prints
Horses At The Ford - Persia by Edwin Lord Weeks. Bring your print to life with three different frame colors. Each framed print comes with equal sized mat that adds a depth perspective to the entire image and a protective glass covering. Our frame prints are assembled, packaged, and shipped by our expert framing staff and shipped within 3 days in "ready to hang" condition with pre-attached mounting points.
Other options for this artwork