Hasui Print Lake Collection - Kawase Hasui - Japanese Woodblock Ukiyo-e Art Painting Print - Life Size Posters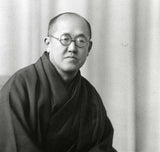 Kawase Hasui (1883-1957) was one of the most prolific of all shin hanga ("new prints") printmakers and is regarded by many as one of the most talented Japanese landscape artist of the 20th Century. Kawase's landscapes are markedly modern, yet they yearn for a Japan past and rest upon traditional virtues of delicacy, poise and restraint.
Hasui loved to travel and would often paint watercolors of Japan's most beautiful places.. In 1952, the Japanese government officially recognized Kawase Hasui as a Living National Treasure.
View Artist Collection
---
Available Options In Life Size Posters
Life Size Poster
30x24 inches
Rolled
Not available for shipping



---
About Hasui Print Lake Collection Kawase Hasui Japanese Woodblock Ukiyoe Art Painting Print
Hasui worked as a full-time woodblock designer. His job did not make him rich. But he was proud that he could make a living from the income he received from his art. Hasui was paid a fixed amount per design. And if a special design sold well, the publisher Watanabe paid a part of the additional income to the artists.Hasui Kawase had lost his home two times during his lifetime. The first time was after the Great Kanto Earthquake when his house became a victim of the fires - just like Watanabe's print shop. And the second time Hasui lost his home in the bombing raids of Tokyo during world war II.
About the Life Size Posters
Hasui Print Lake Collection - Kawase Hasui - Japanese Woodblock Ukiyo-e Art Painting Print by Kawase Hasui. Bigger the better. Our life size posters are produced on acid-free 220 GSM papers using archival inks to guarantee that they last a lifetime without fading or loss of color. All posters include a sufficent white border around the image to allow for future framing, if desired. Product will be shipped in 2-3 days
Other options for this artwork