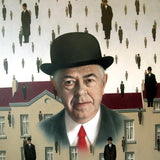 The most celebrated Belgian artist of the twentieth century, Rene Magritte has achieved great popular acclaim for his idiosyncratic approach to Surrealism. His imagery has influenced pop, minimalist and conceptual art.
The illustrative quality of Magritte's pictures often results in a powerful paradox: images that are witty and beautiful in their clarity and simplicity, but which also provoke unsettling thoughts. They seem to declare that they hide no mystery, and yet they are also marvellously strange.
View Artist Collection
---
Available Options In Framed Prints
Small Framed Print
12x10 inches
Framed with Mat
Compact Framed Print
18x15 inches
Framed with Mat
Medium Framed Print
24x20 inches
Framed with Mat
Large Framed Print
30x25 inches
Framed with Mat
Not available for shipping



---
About Golconde
"Golconda" is a famous painting by the Belgian surrealist Rene Magritte, which depicts a scene of raining men, nearly identical to each other dressed in dark overcoats and bowler hats, who seem to be either falling down like rain drops, floating up like helium balloons, or just stationed in mid-air as no movement or motion is implied. The men are equally spaced in a lattice, facing the viewpoint and receding back in rhombic grid layers. Golconda is typical of Magrite's surreal approach, depicting everyday images in a realistic and simple manner but with their significance radically altered in a Freudian dream-like way.
About the Framed Prints
Golconde by René Magritte. Bring your print to life with three different frame colors. Each framed print comes with equal sized mat that adds a depth perspective to the entire image and a protective glass covering. Our frame prints are assembled, packaged, and shipped by our expert framing staff and shipped within 3 days in "ready to hang" condition with pre-attached mounting points.
Other options for this artwork