Gaganendranath Tagore - Veiled Woman - Large Art Prints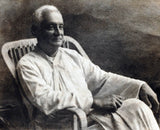 Gaganendranath Tagore (1867 – 1938) was born at Jorasanko in the Tagore family home in Calcutta. He was the nephew of Rabindranath Tagore. Though he didn't receive any formal education in painting later became a prominent figure of Bengal School of Art. In 1907, Gaganendranath together with his brother Abanindranath Tagore founded the Indian Society of Oriental Art which became the harbinger of an indigenous modernism in Indian art in the early twentieth century.
During the early part of his career Gaganendranath was influenced by Far Eastern art styles, in particular Japanese ink wash techniques. However he is best known for his political cartoons and social satires on Westernised Bengalis. Rabindranath Tagore, his uncle commented on his art, thus, in 1938: "What profoundly attracted me was the uniqueness of his creation, a lively curiosity in his constant experiments, and some mysterious depth in their imaginative value."
View Artist Collection
Rolled
Wrapped
Framed With Mat
---
Available Options In Large Art Prints
X-Large Large Canvas Print
26x36 inches
Rolled
XX-Large Large Canvas Print
36x50 inches
Rolled



---
About Gaganendranath Tagore Veiled Woman
Gaganendranath received no formal education but trained under the watercolourist Harinarayan Bandopadhyay. In 1907, along with his brother Abanindranath, he founded the Indian Society of Oriental Art which later published the influential journal Rupam. Between 1906 and 1910, the artist studied and assimilated Japanese brush techniques and the influence of Far Eastern art into his own work, as demonstrated by his illustrations for Rabindranath Tagore's autobiography Jeevansmriti (1912).
About the Large Art Prints
Gaganendranath Tagore - Veiled Woman by Gaganendranath Tagore. Bring your artworks and prints to life with our extra large size products. Carefully printed on high quality materials these large size prints come with equal sized mat that adds a depth perspective (frames) or stretched on a white maple wooden frame (gallery wrap). Your product will be shipped within 4 days in "ready to frame" condition for canvas rolls and "ready to hang" condition for frames and wraps with pre-attached hanging wire and/or mounting points.
Other options for this artwork