Frieda And Diego Rivera - Framed Prints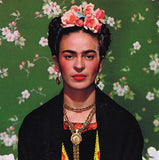 Frida Kahlo de Rivera was a Mexican painter, who mostly painted self-portraits. Inspired by Mexican popular culture, she employed a naïve folk art style to explore questions of identity, postcolonialism, gender, class, and race in Mexican society.
Kahlo's paintings often had strong autobiographical elements and mixed realism with fantasy. In addition to belonging to the post-revolutionary Mexicanidad movement, which sought to define a Mexican identity, Kahlo has been described as a Surrealist or magical realist. Her work has been celebrated internationally as emblematic of Mexican national and indigenous traditions, and by feminists for what is seen as its uncompromising depiction of the female experience and form.
View Artist Collection
---
Available Options In Framed Prints
Small Framed Print
10x12 inches
Framed with Mat
Compact Framed Print
14x18 inches
Framed with Mat



---
About Frieda And Diego Rivera
  Frida painted this double portrait a couple years after she and Diego were married, and moved to our very own San Francisco, CA. Legend has it that the painting was inspired by their wedding photograph. Moreover, there's a legend on the picture itself, held up on a scroll by a fat brown bird. Hovering over Kahlo's head like a thought bubble. Diego is armed with palette and brushes, staring directly at the viewer, while Frida latches on to his hand and her shawl, staring off into space. She's clearly marked Diego as the artist in this picture and shows that her own identity is associated with his. She's Mrs. Diego Rivera.
About the Framed Prints
Frieda And Diego Rivera by Frida Kahlo. Bring your print to life with three different frame colors. Each framed print comes with equal sized mat that adds a depth perspective to the entire image and a protective glass covering. Our frame prints are assembled, packaged, and shipped by our expert framing staff and shipped within 3 days in "ready to hang" condition with pre-attached mounting points.
Other options for this artwork