Fiesta Pig 184 - Large Art Prints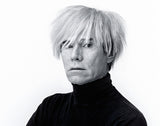 Andy Warhol (1928-1987) was a key figure in Pop Art, an art movement that emerged in America and elsewhere in the 1950s to become prominent over the next two decades.
From haunting black and white self-portraits to Polaroid snapshots of celebrities, many of the photos in the collection later became the inspiration for Warhol's most well-known Pop Art pieces.
View Artist Collection
Rolled
Wrapped
Framed With Mat
---
Available Options In Large Art Prints
X-Large Large Canvas Print
36x26 inches
Rolled



---
About Fiesta Pig 184
"Fiesta Pig 184" by Andy Warhol is a screen print depicting a pig investigating plates and drinks left from an abandoned party.Warhol uses his iconic vivid pop colours in his colour blocking style.   This screen print was commissioned by the publisher of Die Walt to be printed in the German newspaper. This screen print shows the humorous side of Andy Warhol that is often lost in his portrait screen prints.
About the Large Art Prints
Fiesta Pig 184 by Andy Warhol. Bring your artworks and prints to life with our extra large size products. Carefully printed on high quality materials these large size prints come with equal sized mat that adds a depth perspective (frames) or stretched on a white maple wooden frame (gallery wrap). Your product will be shipped within 4 days in "ready to frame" condition for canvas rolls and "ready to hang" condition for frames and wraps with pre-attached hanging wire and/or mounting points.
Other options for this artwork