Femme Assise, 1939 - Large Art Prints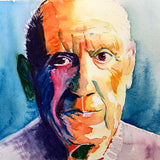 Picasso (1881-1973) was a Spanish painter, sculptor, printmaker and ceramicist.

Picasso achieved universal acclaim and immense fortune for his revolutionary artistic accomplishments; becoming one of the best-known figures in the 20th century art.

He is also known for co-founding the Cubist movement, the invention of constructed sculpture and the co-invention of collage. View Artist Collection
Rolled
Wrapped
Framed With Mat
---
Available Options In Large Art Prints
X-Large Large Canvas Print
28x36 inches
Rolled
XX-Large Large Canvas Print
36x47 inches
Rolled



---
About Femme Assise, 1939
"Femme Assise, 1939" is a well-known painting by Pablo Picasso depicting a woman sitting on a chair. Subjects and objects in Cubism are broken up into pieces and re-arranged in an abstract form. Dark color and monochrome theme were used to depict the trying times, and the anguish which was being suffered.
About the Large Art Prints
Femme Assise, 1939 by Pablo Picasso. Bring your artworks and prints to life with our extra large size products. Carefully printed on high quality materials these large size prints come with equal sized mat that adds a depth perspective (frames) or stretched on a white maple wooden frame (gallery wrap). Your product will be shipped within 4 days in "ready to frame" condition for canvas rolls and "ready to hang" condition for frames and wraps with pre-attached hanging wire and/or mounting points.
Other options for this artwork