Pablo Picasso - Famille d'Acrobates Avec Singe - Family of Acrobats, with Monkey - Framed Prints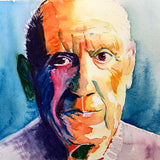 Picasso (1881-1973) was a Spanish painter, sculptor, printmaker and ceramicist.

Picasso achieved universal acclaim and immense fortune for his revolutionary artistic accomplishments; becoming one of the best-known figures in the 20th century art.

He is also known for co-founding the Cubist movement, the invention of constructed sculpture and the co-invention of collage. View Artist Collection
---
Available Options In Framed Prints
Small Framed Print
9x12 inches
Framed with Mat
Compact Framed Print
13x18 inches
Framed with Mat
Medium Framed Print
17x24 inches
Framed with Mat
Large Framed Print
21x30 inches
Framed with Mat
Not available for shipping



---
About Pablo Picasso Famille d'Acrobates Avec Singe Family of Acrobats, with Monkey
Although the painting Family of Acrobats with Monkey (1905) is quite classical in style, its line is as suggestive as Picasso's later, more abstract work. This subtlety of line is Picasso's unique contribution to expressionism. In general, one can say that there is a trade-off between subtlety and expression, and the directness of expressionism seems crude to the classicist.
About the Framed Prints
Pablo Picasso - Famille d'Acrobates Avec Singe - Family of Acrobats, with Monkey by Pablo Picasso. Bring your print to life with three different frame colors. Each framed print comes with equal sized mat that adds a depth perspective to the entire image and a protective glass covering. Our frame prints are assembled, packaged, and shipped by our expert framing staff and shipped within 3 days in "ready to hang" condition with pre-attached mounting points.
Other options for this artwork