Dominant Curve - Framed Prints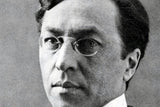 Kandinsky (1866 – 1944) was a Russian painter and art theorist. Art and sound were one and the same to him, because it is believed he had synaesthesia—a harmless condition that allowed him to appreciate two or more senses simultaneously.
Kandinsky could not only see the color blue, he could hear it—he associated colors and tones with specific musical timbres. Part of his goal as an artist was to depict and share his synaesthetic experiences. The result is a painting that is complex and visually stimulating, with color combinations that reverberate.
View Artist Collection
---
Available Options In Framed Prints
Small Framed Print
12x8 inches
Framed with Mat
Compact Framed Print
18x12 inches
Framed with Mat
Medium Framed Print
24x16 inches
Framed with Mat



---
About Dominant Curve
A schematized pink-toned embryo, for instance, floats in the upper-right corner of Dominant Curve, while the figures contained within the green rectangle in the upper-left corner resemble microscopic marine animals. Various Actions is imbued with similar organic figures hovering above a celestial blue field. These buoyant, biomorphic images, often presented in pastel hues, may be read as signs of Kandinsky's optimistic vision of a peaceful future and hope for post-war rebirth and regeneration.
About the Framed Prints
Dominant Curve by Wassily Kandinsky. Bring your print to life with three different frame colors. Each framed print comes with equal sized mat that adds a depth perspective to the entire image and a protective glass covering. Our frame prints are assembled, packaged, and shipped by our expert framing staff and shipped within 3 days in "ready to hang" condition with pre-attached mounting points.
Other options for this artwork