Composition X - Posters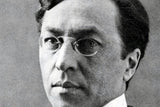 Kandinsky (1866 – 1944) was a Russian painter and art theorist. Art and sound were one and the same to him, because it is believed he had synaesthesia—a harmless condition that allowed him to appreciate two or more senses simultaneously.
Kandinsky could not only see the color blue, he could hear it—he associated colors and tones with specific musical timbres. Part of his goal as an artist was to depict and share his synaesthetic experiences. The result is a painting that is complex and visually stimulating, with color combinations that reverberate.
View Artist Collection
---
Available Options In Posters
Small Size 17x12 inches Poster
Small Size 17x12 inches
Rolled
Not available for shipping



---
About Composition X
" Composition VIII" art by Wassily Kandinsky is a very popular painting is a very interesting improvisation of his form . This painting is a logical development of the creative genius of the painter and to a certain extent it reflects the influence of Supremacism and Constructivism assimilated by Kandinsky in Russia. Kandinsky aimed to formulate an abstract language which would cause strong emotions in the audience to a large extent the same way as it does the music. Kandinsky as a writer was consistent and methodical, but when working on the canvas with figures and colours he was becoming sensual and impulsive.
About the Posters
Composition X by Wassily Kandinsky. Our posters are produced on acid-free 220 GSM papers using archival inks to guarantee that they last a lifetime without fading or loss of color. All posters include a sufficent white border around the image to allow for future framing, if desired. Product will be shipped in 2-3 days
Other options for this artwork