Composition VII - Large Art Prints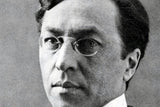 Kandinsky (1866 – 1944) was a Russian painter and art theorist. Art and sound were one and the same to him, because it is believed he had synaesthesia—a harmless condition that allowed him to appreciate two or more senses simultaneously.
Kandinsky could not only see the color blue, he could hear it—he associated colors and tones with specific musical timbres. Part of his goal as an artist was to depict and share his synaesthetic experiences. The result is a painting that is complex and visually stimulating, with color combinations that reverberate.
View Artist Collection
Rolled
Wrapped
Framed With Mat
---
Available Options In Large Art Prints
X-Large Large Canvas Print
36x25 inches
Rolled



---
About Composition VII
Composition VII is amazing in terms of its combination of emotional expression and well thought out structure of the whole. The logical centre of the composition is a rotation of forms expressed by a violet spot and black lines and strokes of paint next to them. This draws into itself like a funnel sending off some rudiments of forms which spread out into innumerable metamorphoses along the entire canvas. In colliding they merge or, on the contrary, break on one another and set in motion the neighbouring forms… This is literally the elemental force of Life, Harmony arising out of Chaos
About the Large Art Prints
Composition VII by Wassily Kandinsky. Bring your artworks and prints to life with our extra large size products. Carefully printed on high quality materials these large size prints come with equal sized mat that adds a depth perspective (frames) or stretched on a white maple wooden frame (gallery wrap). Your product will be shipped within 4 days in "ready to frame" condition for canvas rolls and "ready to hang" condition for frames and wraps with pre-attached hanging wire and/or mounting points.
Other options for this artwork