Bridge at Villeneuve-la-Garenne - Large Art Prints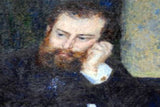 Alfred Sisley was an Impressionist landscape painter who was born and spent most of his life in France, but retained British citizenship. He was the most consistent of the Impressionists in his dedication to painting landscape en plein air. View Artist Collection
Rolled
Wrapped
Framed With Mat
---
Available Options In Large Art Prints
X-Large Large Framed Print
36x28 inches
Framed With Mat
Not available for shipping
XX-Large Large Framed Print
48x36 inches
Framed With Mat
Not available for shipping
Oversize Large Framed Print
63x48 inches
Framed With Mat
Not available for shipping



---
About Bridge at VilleneuvelaGarenne
"Bridge at Villeneuve-la-Garenne" By Alfred Sisley is his very famous painting.   The cast-iron and stone suspension bridge at Villeneuve-la-Garenne, constructed in 1844 to connect the village with the Paris suburb of Saint-Denis, can be seen from a distance in a work of spring 1872 (Fogg Art Museum, Cambridge, Mass.). Shortly thereafter, Sisley executed this close-up, dramatically angled view, showing holidaymakers on the river and along the shore. Flat strokes of high-keyed color—notably in the reflections on the water's surface—capture the fleeting effect of bright summer sunshine.
About the Large Art Prints
Bridge at Villeneuve-la-Garenne by Alfred Sisley. Bring your artworks and prints to life with our extra large size products. Carefully printed on high quality materials these large size prints come with equal sized mat that adds a depth perspective (frames) or stretched on a white maple wooden frame (gallery wrap). Your product will be shipped within 4 days in "ready to frame" condition for canvas rolls and "ready to hang" condition for frames and wraps with pre-attached hanging wire and/or mounting points.
Other options for this artwork