Bottle and Fishes - Large Art Prints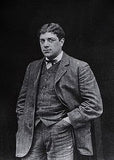 Georges Braque was a major 20th-century French painter, collagist, draughtsman, printmaker and sculptor. His most important contributions to the history of art were in his alliance with Fauvism.
Georges Braque was at the forefront of the revolutionary art movement of Cubism. Braque's work throughout his life focused on still lifes and means of viewing objects from various perspectives through color, line, and texture. While his collaboration with Pablo Picasso and their Cubist works are best known, Braque had a long painting career that continued beyond Cubism.
View Artist Collection
Rolled
Wrapped
Framed With Mat
---
Available Options In Large Art Prints
X-Large Large Canvas Print
36x30 inches
Rolled
XX-Large Large Canvas Print
44x36 inches
Rolled



---
About Bottle and Fishes
"Bottle and Fishes" by Georges Braque is an excellent example of Braque's foray into Analytic Cubism, while he worked closely with Picasso, depicts ordinary objects - bottle and fishes on a plate, laid on a table with a drawer – dramatically fragmented to form a grid-like structure of interpenetrating planes. The traditional domestic subject matter and sober colours in this work can be seen as a reaction against the luminous hues and free expression of Braque's earlier fauvist paintings. "Bottle and Fishes" has the restricted characteristic earth tone palette rendering barely perceptible objects as they disintegrate along a horizontal plane. While there are some diagonal lines, Braque's early paintings tended to work vertically or horizontally.
About the Large Art Prints
Bottle and Fishes by Georges Braque. Bring your artworks and prints to life with our extra large size products. Carefully printed on high quality materials these large size prints come with equal sized mat that adds a depth perspective (frames) or stretched on a white maple wooden frame (gallery wrap). Your product will be shipped within 4 days in "ready to frame" condition for canvas rolls and "ready to hang" condition for frames and wraps with pre-attached hanging wire and/or mounting points.
Other options for this artwork