An Ancient View of the Pontoon Bridge at Sano, Kozuke Province - Katsushika Hokusai - Japanese Woodcut Ukiyo-e Painting - Large Art Prints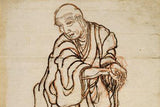 Katsushika Hokusai was a brilliant artist, ukiyo-e painter and print maker, best known for his wood block print series Thirty-Six Views of Mount Fuji, which contain the prints The Great Wave and Fuji in Clear Weather. Hokusai's artistic influence has stretched to have affected the Art Nouveau style in Europe, including Claude Monet and Pierre-Auguste Renoir." View Artist Collection
Rolled
Wrapped
Framed With Mat
---
Available Options In Large Art Prints
X-Large Large Canvas Print
36x24 inches
Rolled
XX-Large Large Canvas Print
53x36 inches
Rolled



---
About An Ancient View of the Pontoon Bridge at Sano, Kozuke Province Katsushika Hokusai Japanese Woodcut Ukiyoe Painting
This snowscape depicting the "bridge of boats" at Sano, Gunma Prefecture, in northeastern Japan, is the most striking print in the series. Noted in the cartouche as an "ancient view," the pontoon bridge was famous in early poetry but no longer existed by Hokusai's time. Katsushika Hokusai, also known as Hokusai is a Japanese ukiyo-e painter who focused on lithographs produced in japan using a technique of wooden blocks between the seventeenth and the twentieth centuries. Most of his paintings were landscapes, historical scenes or theatrical/delightful scenes.
About the Large Art Prints
An Ancient View of the Pontoon Bridge at Sano, Kozuke Province - Katsushika Hokusai - Japanese Woodcut Ukiyo-e Painting by Katsushika Hokusai. Bring your artworks and prints to life with our extra large size products. Carefully printed on high quality materials these large size prints come with equal sized mat that adds a depth perspective (frames) or stretched on a white maple wooden frame (gallery wrap). Your product will be shipped within 4 days in "ready to frame" condition for canvas rolls and "ready to hang" condition for frames and wraps with pre-attached hanging wire and/or mounting points.
Other options for this artwork