Abstract Ganesha - Set of 2 Canvas Gallery Wraps - ( 24 x 24 inches)each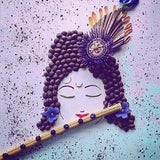 Every stroke of paint should be timeless. I dedicate myself in creating Lord Krishna paintings. View Artist Collection
---
Available Options In Canvas Sets



---
About Abstract Ganesha Set of 2 Canvas Gallery Wraps ( 24 x 24 inches)each
Ganapati or Ganesha, the lord of hosts and god of wisdom, who is also called Vighnesvara ("the lord presiding over obstacles"), has an obese human body topped by the head of an elephant. Worshiped throughout Hinduism, he is invoked at the beginning of any enterprise, for his is the power to remove obstacles but also to place them in the way of success. His shape is a symbol charged with meaning on many levels. 
This is a set of 2 gallery wrapped art prints each measuring 24 x 24 inches.
High resolution printing on premium artistic canvas, by using a high-quality gallery wrapping technique which extends the picture all the way around the wooden frame. And metal hanging hooks already nailed on the frame.
The canvas art is ready to hang out of the box.
About the Canvas Sets
Abstract Ganesha - Set of 2 Canvas Gallery Wraps - ( 24 x 24 inches)each by Raghuraman. Translation missing: en.product_types_description.canvas-sets
Other options for this artwork